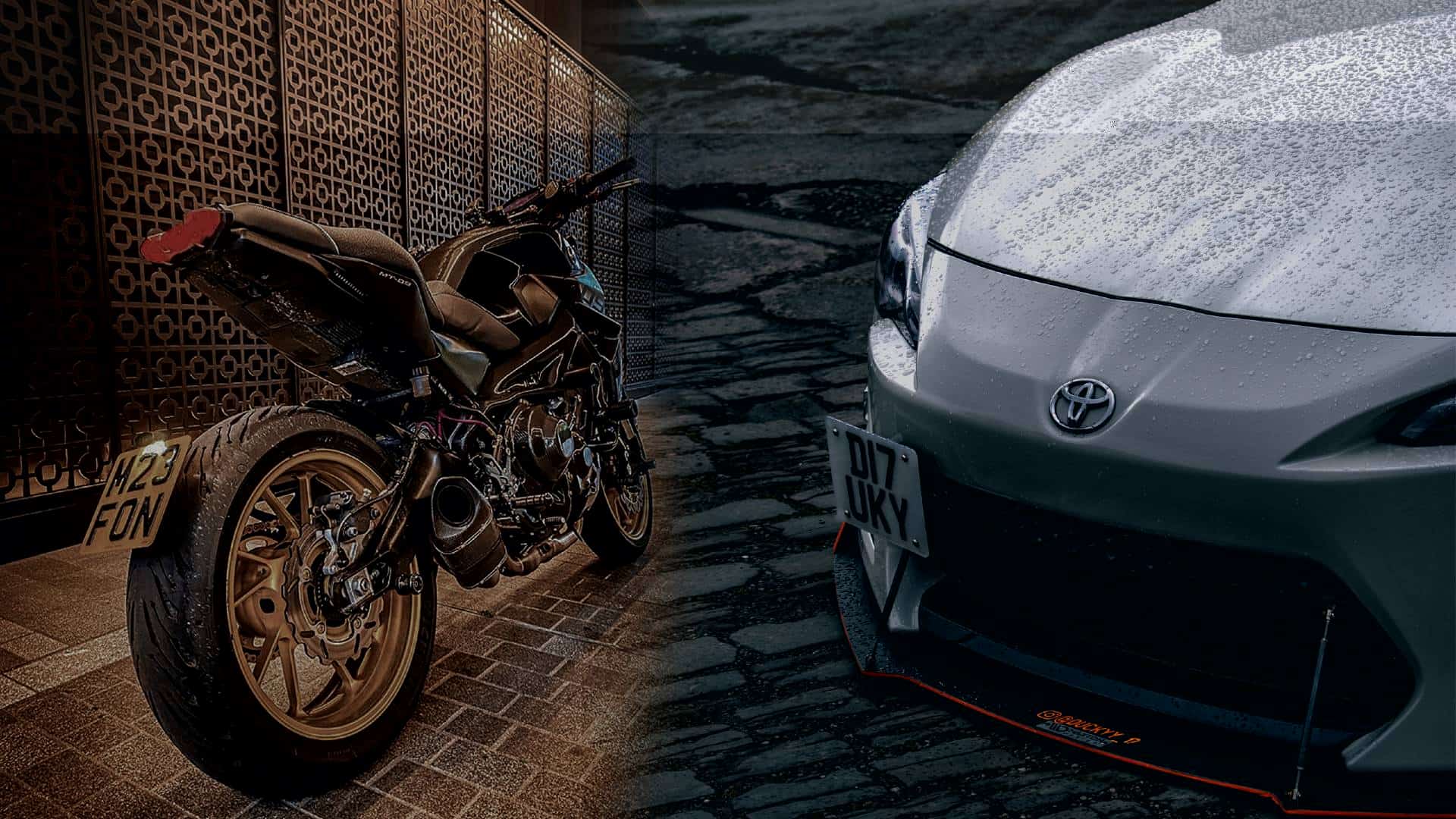 Are you searching for a number plate maker to provide you with custom number plates or registration plates? Do your car number plates need refreshing? If so, you are in the right place; here at JDM plates, we are the UK's top number plate-making specialists; whether you are searching for 3D or 4D or standard number plates, we are the team for you. We are the best custom number plate maker in the UK
With a range of five-star reviews, our loyal customers have chosen us time and time again as their registered number plate supplier for both custom plates and regular registration plate options. You can invest in your number plate with our team and be confident your bespoke plates will be of the highest quality.
If you want a brand new number place or custom plate, order yours online today! You can choose rear plate options, private number plates or replacement number plates for the front of your vehicle. Simply use our quick and easy number plate maker tool to get started!
Custom Number Plates By JDM
When it comes to finding a number plate maker, you want t,o make sure that the number plate they provide for you is going to have a smooth finish; that is exactly what you get here at JDM Plates, whether you are looking for bike plates, car plates or both with fast delivery.
All you need to do is put your registration number into our easy-to-use custom number plate generator; from there, you can see what your new plates will look like on both a white and yellow background, the legal plates requirement.
Our number plates are used using the best technology on the market today, the pressed plates will come with a reflective material that allows your plates to stand out, and you can even customise every step of your brand-new car number plates.
It does not matter which plate style you choose; once handcrafted by one of our number plate makers, you will receive number plates that will not crack, fade or lose their acrylic; they are of excellent quality.
Get in touch to learn more about the fantastic service we can offer on all custom number plates made by a professional number plate maker; we are always happy to help and find the correct customisation options.
3D Custom Number Plates
Our custom number plate maker can provide you with 3D plates; they are the best way to stand out; they are made using a polyurethane gel resin that, once dried and cured, provides a smooth finish, and raised characters also offer a slick finish. The numbers and letters on 3D custom plates are designed using 3D gel, offering the multi-dimensional aspect these bespoke plates are known for.
As professional number plate makers, we specialise in making legal registration plates that pass all of the requirements to be used on UK roads, following guidelines laid out by the BS AU 145e 2021 British Standard.
Choose a 3D number plate today to make your car stand out on the roads; replacement number plates can differ from plain plates.
4D Custom Number Plates
Our team here at JDM Plates want to offer great service and excellent service every time, and because of this, we wanted to ensure we offered a range of registration plates, including 4D plates. Our 4D designs are the most statement plates you can get to be used on the roads across the UK; once these plates arrived on the market, we knew we had to offer them to our clients.
So if you are looking for new number plates, the stunning 4D custom number plates should be at the top of your list. They are 100% legal on the road and are durable again the way they are made; we create these plates with 4D gel. Each registration number uses a precision cutting tool to ensure each letter and number is perfect!
Again, these plates are one hundred per cent road-legal; also, we offer high-quality sticky pads, so you do not have to drill holes into the plates; using the best materials, we can provide you with next-day delivery on all 4D plates.
Custom-Made Show Number Plates
Are you searching for show number plates? Do you want to be able to express your individuality by finding a show number plate supplier?
If so, you are in the right place. Our team are specialists in all aspects of number plates, and we can offer you a brilliant service on all show number plates.
You can customise your plates to no end here at JDM, choosing a different colour, creating a new texture or design, or whatever you want for your number plates.
You can order these plates online, but they are illegal to use on public roads; these number plates are only suitable for private land and private roads.
Do You Need Documentation For New Number Plates?
The answer is yes; according to the DVLA and other government Legislation in place across the UK, you need to provide us with ID and documentation to prove that you own the vehicle before purchasing the new number plates. Number plates made are only done so once we have seen the relevant documentation.
This information is required by law and is not a rule by our company; without documentation, we will not create any number plates. If you speak to a number plate maker that does not ask for this information, you are not buying from a registered trader and could be open to legal action.
Proof of ID
A - Driving Licence
B - Utility, telephone or council tax bill
C - A bank or building society statement
D - Passport
E - Foreign National Identity Card
F - Debit or Credit Card
G - A police warrant card
H - An armed forces identity card
Proof of Ownership
1 - Registration Certificate (V5C)
2 - Tear off slip V5C/2 section 10 of the V5C
3 - Certificate of entitlement to a mark (V750)
4 - Cherished transfer retention document (V778)
5 - Vehicle licence renewal form (V11)
6 - Temporary registration certificate (V379)
7 - Authorisation Certificate (V948) with Official DVLA stamp
8 - A letter of authorisation from Fleet Operators (including a lease/hire company) quoting the document reference number from the V5C
9 - Record of the insurer's name, reference and policy number (for repairs approved by an insurance company).
Choose JDM Plates As Your Number Plate Maker Today!
If you have been searching for a number plate maker to provide you with brand-new number plates, you are in the right place; we offer a simple process that is easy to use on all the custom-made number plates we offer. You must speak to our team today or head to our frequently asked questions to find out more.
One of the best parts about using JDM Plates is that we offer a live preview of your brand-new number plates as you go through our easy-to-use design process. Once satisfied with the number plates made using our number plate maker, you must place your order.
Here at JDM Plates, we aim to create any plates ordered on the same day, where possible, and have them dispatched to you as quickly as we can; this is the same for show plates, but please remember, these are not road legal. Our 3D, 4D and regular plates are, but not the show plates.
Our team are more than happy to discuss any queries or questions you may have about the custom-made plates we can make you, simply get in touch! We are confident you will love your brand-new plates made by our team.